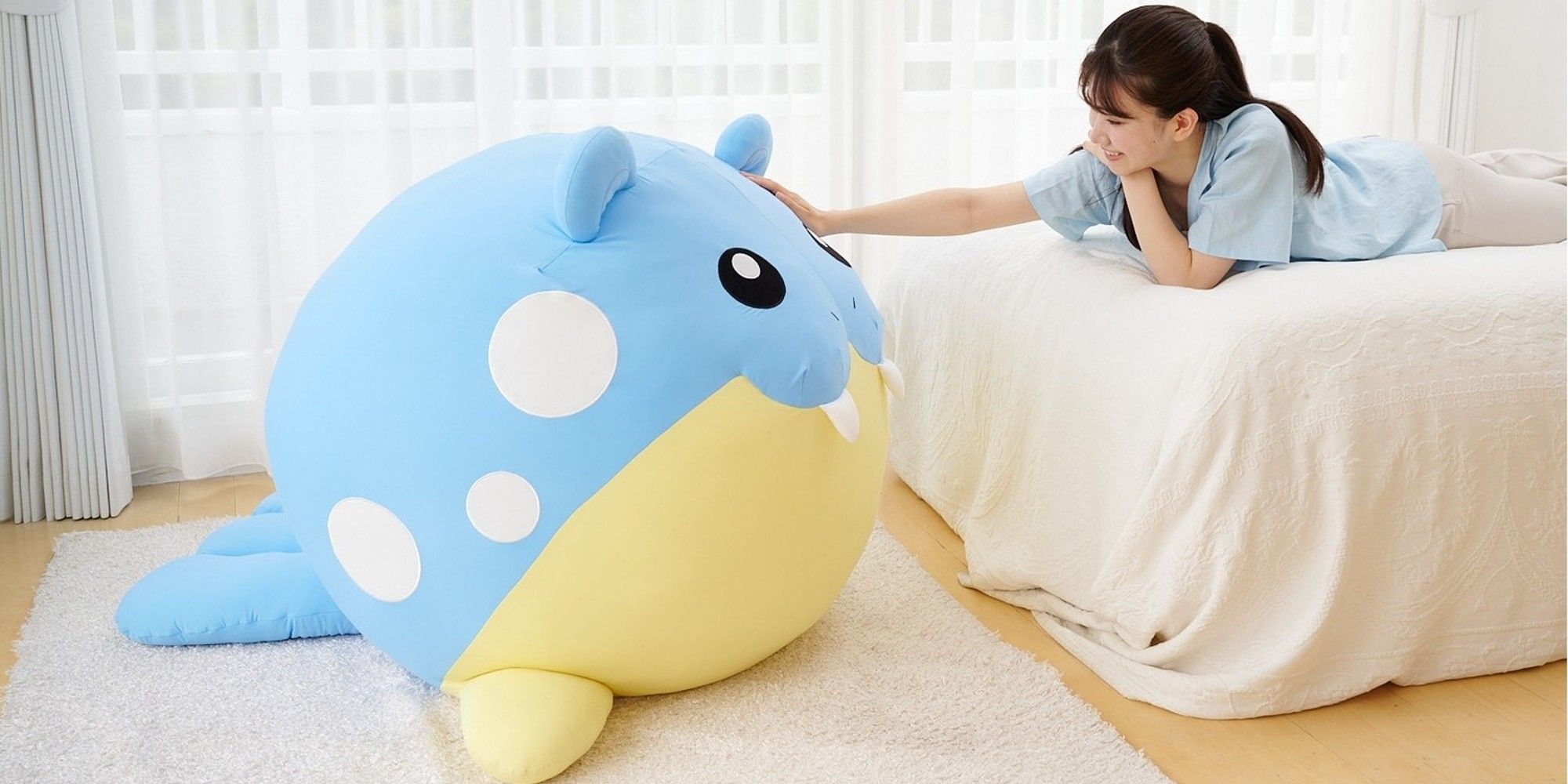 Millions of people around the world have been immersing themselves in everything Pokemon can throw at them for the better part of 30 years. Games, trading cards, and yes, filling their homes with massive soft toy replicas of their favorite Pokemon. You can now add a huge Spheal to that collection. Well, you can if Japan's Pokemon Center will deliver to you.
Serebii's Joe Merrick shared an image of the Spheal showing how big and surprisingly smooth it looks. Since the Spheal is at the foot of a bed and being stroked by its owner, you can get a good idea of ​​just how much space in your bedroom this new plush is going to occupy. If you're still struggling to picture it in your own home, the Pokemon Center's website lists Spheal's dimensions as 80 cm x 90 cm x 100 cm.
RELATED: Why Is Pokemon Refusing To Give Us A New Eeveelution?
That means describing Spheal as lifesize isn't entirely accurate. Spheal's official height is 78.7 cm tall, which means the in-game version of the Pokemon is actually significantly smaller than the plush version. That's assuming the 100 cm measurement is the Pokemon's height, but even if it's 80 cm tall, cuddly fake Spheal is still slightly taller than the real deal.
Going back to how smooth plush Spheal looks, that might have something to do with the material its made from. A loose translation of the item description on Pokemon Center Japan's website describes it as being a "cool contact fabric (except for the eyes)". You really shouldn't be hugging Pokemon eyes first anyway, they don't like that. It adds that Spheal is good to relax with at home during the hot summer, so perfect timing if you're in the market for a new Pokemon plush.
As for how much this Spheal is going to cost, because obviously we're all going to be buying them, they're currently listed at 49,500 yen. That's just shy of $360, so pretty pricey, but you will be getting a whole lot of Spheal for that. As for whether the bulky Pokemon can be shipped outside of Japan, that seems unlikely, but perhaps it will be added to other Pokemon Centers in the future. If it arrives in other centers soon, you can use it to qualify for the new Special Delivery Charizard card being given away to celebrate the opening of a Pokemon Center in the UK.
NEXT: Tekken 8 Needs To Make The Men As Stylish As The Women